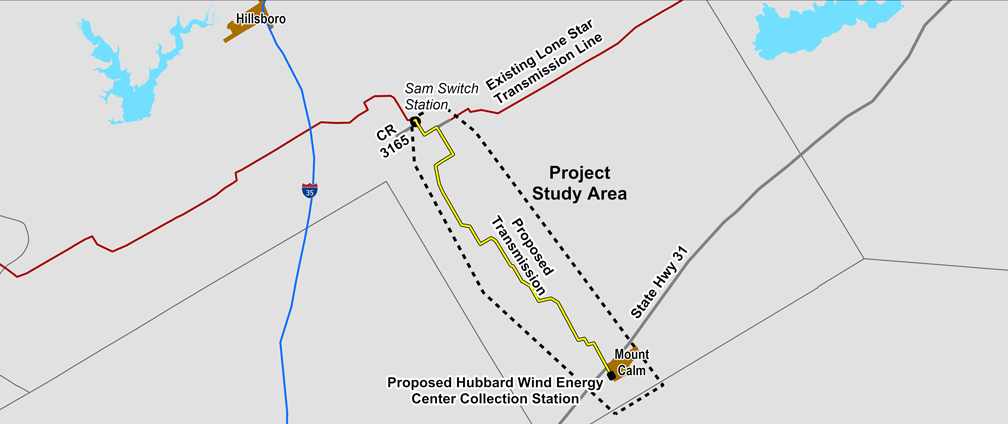 345  KV TRANSMISSION LINE PROJECT
Project Need
Pursuant to Public Utility Commission of Texas (PUCT) rules that regulate transmission projects in Texas, transmission service providers such as Lone Star are obligated to provide open access and interconnection services to generators requesting to connect the electric grid. Interconnection services include construction of facilities and infrastructure needed to complete the physical connection of the generating entity to the grid. 
Following protocols established by the Electric Reliability Council of Texas (ERCOT) to manage and oversee generation interconnection requests, the Hubbard Wind Energy Center* has requested that its 300 megawatt (MW) wind generation facility be connected to the Texas grid via the nearest existing high voltage station.  Because Lone Star's 345 kilovolt (kV) Sam Switch Station is the nearest facility that can accommodate the flow of power from Hubbard Wind Energy Center, the addition of a new 345 kV transmission line is the most effective and efficient solution to connect this generator to the grid while meeting its commercial operation date. 
 
Project Benefits
Brings additional sources of renewable energy to electric consumers in Texas
Supports future growth in the area
Benefits the community through increased property tax revenues
 
Project Description
To connect the Hubbard Wind Energy Center to the electric grid, Lone Star will:
Construct a new, approximately 15.3-mile-long 345 kV single-circuit transmission line in Hill County in new 150- to 200-foot rights of way secured by Hubbard Wind Energy Center
Utilize single-pole, spun-concrete transmission structures and in some areas, steel transmission structures
Make modifications to Lone Star's Sam Switch station to connect the new line
For approximately 1.3 miles, the new line will be located on Lone Star's existing transmission structures south of its Sam Switch Station
*The Hubbard Wind Energy Center is also referred to at ERCOT as the Aquilla Lake Wind project.
Last updated July 24th, 2020